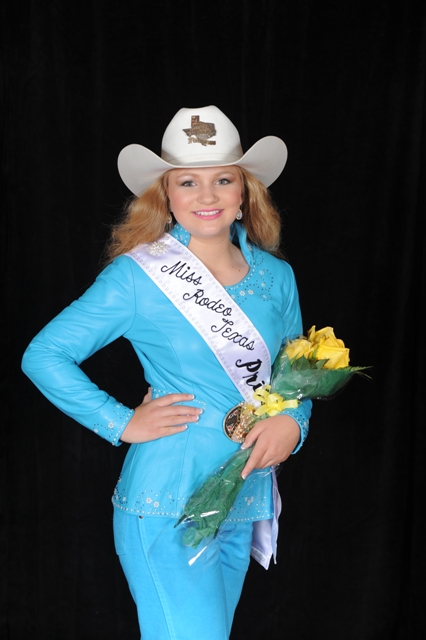 Miss Rodeo Texas Princess 2013
Kate Johnson
Kate Johnson of Abernathy, was crowned the 2013 Miss Rodeo Texas Princess in San Antonio, TX on June 20, 2013. Kate won her title in a celebratory coronation as the 12th Miss Rodeo Texas Princess.
Entering the competition as Miss Rodeo Sandhills Princess, Miss Johnson also won the categories of Photogenic, Appearance, Personality and Horsemanship. She was awarded a $500 scholarship, trophy saddle, trophy belt buckle, jewelry and many other great prizes.
Kate is a student of Johnson Academy where she will be a sixth grader in the fall. Her other activities include rodeo, participating in 4-H activities, playing the guitar, competitive swimming and volunteering for organizations such as Meals on Wheels and Race for the Cure.
The newly crowned royalty is a member of Harvest Christian Fellowship in Plainview, Hale County 4-H, Plainview YMCA Swim Team, American Quarter Horse Association and Miss Rodeo America. She will join the Texas Junior High Rodeo Association in the fall where she will compete in breakaway roping, ribbon roping and goat tying. Kate added, "This title means so much to my family because three years ago my sister held the same title. Since we are the first sisters to hold the title of Miss Rodeo Texas Princess, it makes it even more special."
The Miss Rodeo Texas Princess competition consists of 9 to 13 year old contestants. The selection of each of the rodeo queens is based on horsemanship, appearance, and personality competitions with the crowning of the winners on coronation night in San Antonio, TX. During her rein, she will travel Texas promoting youth rodeos, the western industry and agriculture.