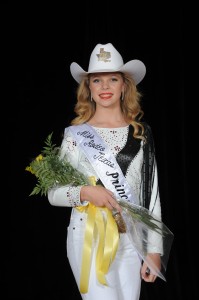 Miss Rodeo Texas Princess 2014
Aubrie Fields

Aubrie Fields was crowned as the newest statewide Miss Rodeo Texas Princess on June 26, 2014, in San Antonio, TX. Miss Fields said, "I felt like I could finally let a breath out that I had been holding the whole contest. The first thought that came to my mind was 'Thank you God for this opportunity and honor'. I then thought about the honor and privilege that I had just been given. I know this experience will change my life."
Miss Fields, 13 years old from Sudan, TX, will be in the 8th grade at Sudan Jr. High School where she in very involved in basketball, track, cross country, Bold Gold Band and UIL. Aubrie was the Salutatorian of her 7th grade class this past year. She is the Reporter of the Sudan 4H Club and Secretary for the Lamb County 4H Horse Club. She was the high point individual in horse judging and Champion Barrel Racer at the District level in 4H. She shows goats in FFA, is a member of the American Quarter Horse Association, Miss Rodeo America Association, Texas Jr. High Rodeo Association where she competes in every event. She qualified for state this year in barrels, poles, goat tying, and her favorite, breakaway roping. She was also the TJHRA Princess for 2013. Aubrie's other interest are reading, playing board games and stock shows.
The newest Miss Rodeo Texas Princess, entering the pageant as Miss Texas Junior High Rodeo Association Princess, explained, "I have met so many great people during the pageant. I want to thank every person that has helped me during this journey, whether it was my best friend who would not let me do anything until I had studied at least 20 minutes, or my family. They have helped me with my horse and riding, made clothes, dyed boots and jeans, studied hour after hour and driving me all over the state."
The Miss Rodeo Texas pageant, held annually to select the Princess rodeo queen to represent the state of Texas in 2014-2015, awarded Aubrie a $500 scholarship, trophy saddle, trophy belt buckle, jewelry and many other great prizes. Miss Fields also won appearance, congeniality, personality and horsemanship categories.
A Texas tradition for more than five decades with the first Miss Rodeo Texas being crowned in 1959, the Miss Rodeo Texas Pageant has produced seven Miss Rodeo Americas. Since the inception of the Miss Rodeo Texas Pageant, Miss Rodeo Texas, Miss Rodeo Texas Teen and Miss Rodeo Texas Princess have served as vibrant, colorful goodwill ambassadors of rodeo, the official sport of Texas, working closely with professional rodeos, rodeo associations and community organizations to preserve our western heritage and keep the western industry alive and flourishing in today's society. Contestants from all over the state participate in the Miss Rodeo Texas program competing for thousands of dollars in scholarship awards and other prizes among three age groups vying for their respective crowns. The Miss Rodeo Texas contest consists of pageant winners from 19 to 24 years old. The Miss Rodeo Texas Teen consists of winners from 14 to 18 year old. The Miss Rodeo Texas Princess competition consists of 9 to 13 year old contestants. The selection of each of the rodeo queens is based on horsemanship, appearance, and personality competitions with the crowning of the winners on coronation night in San Antonio, TX. Please view the Miss Rodeo Texas website, www.missrodeotexas.com for more information. As the reigning Miss Rodeo Texas 2014, Alex Ingram, will be competing in the Miss Rodeo America pageant in Las Vegas, Nevada in conjunction with the Wrangler National Finals Rodeo (PRCA). The coronation of Miss Rodeo America 2014 will be in early December 2014. www.missrodeoamerica.com.
A very special "big Texas" thanks to Aubrie's parents, Gary and Sue Fields. Miss Fields said, "I also want to thank the many sponsors of the Miss Rodeo Texas Pageant because none of this would be possible without them. This is not only a huge honor to my family and me, but also the THSRA and TJHRA organization to have McKenna Greene, Miss Rodeo Texas Teen 2014, and me win Teen and Princess and have another great year together. (McKenna and Aubrie traveled together last year as state officers). I look forward to a wonderful year representing the Miss Rodeo Texas Association with two lovely young ladies, Alex Ingram, Miss Rodeo Texas 2014, and McKenna, to look up to. This will be an experience of a lifetime to be able to represent this great state and promote the western way of life that I couldn't live without. I feel that the Princess can connect to younger children on a different level. I plan to do just that and make a few more lifelong friends along my trail."