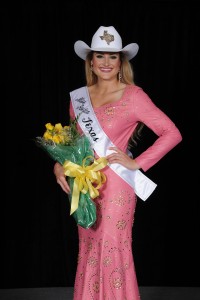 Miss Rodeo Texas 2016
Lisa Lageschaar

Lisa Lageschaar was crowned as the 2016 Miss Rodeo Texas on Thursday, June 23rd at the Miss Rodeo Texas Pageant coronation in San Antonio, TX. Lisa is a 24 year old native of Picton, TX and represented as Miss Rodeo Franklin County Sheriff's Posse during the pageant and won the categories of appearance, personality, photogenic and the prestigious title of horsemanship. In addition to earning an incredible prize package, Lisa will receive a $26,500 scholarship sponsored by the San Antonio Livestock Show and Rodeo and Urban Concrete.
Miss Lageschaar has earned her Masters of Education from Stephen F. Austin State University and her B.S. in Ag. Services from Tarleton State University. She is ecstatic about beginning her year and hopes to leave a legacy of kindness. She stated, "Being kind doesn't cost a thing and no matter who I meet, I want every single person to know that I truly care about them. I hope to make everyone I meet a rodeo fan"!
Lisa is a member of the Texas CattleWomen, Masters of Beef Advocacy, Vocational Agriculture Teachers Association, American Quarter Horse Association and the Kappa Delta Pi International Honor Society and is a high school Agricultural Science Teacher. With her servant heart, she enjoys volunteering at special kids rodeos, teaching riding lessons and connecting people to rodeo and the western way of life. Lisa is an avid team roper and barrel racer and wants to remind young rodeo enthusiasts that "If you believe it, you can achieve it- But only if you put in hard work first"!
The newest Miss Rodeo Texas' achievements include 2015 Miss Rodeo Texas 1st Runner Up, 2015 Borderland Horsemanship Throwdown Champion, Miss Rodeo Austin 2014 and Miss Rodeo Nacogdoches 2013.
At coronation Lisa said, "I am overwhelmed with emotion! I am so excited, relieved and in disbelief that my name was just called as Miss Rodeo Texas. I am blessed beyond measure". This year, Lisa will travel over 50,000 miles promoting professional rodeo, western heritage and agriculture.
A Texas tradition for more than five decades with the Miss Rodeo Texas inauguration crowning in 1959, the Miss Rodeo Texas Pageant has produced seven Miss Rodeo Americas. Since the inception of the Miss Rodeo Texas Pageant, Miss Rodeo Texas has served as a vibrant, colorful goodwill ambassador of rodeo, the official sport of Texas, working closely with professional rodeos, rodeo associations and community organizations to preserve our western heritage and keep the western industry alive and flourishing in today's society.

Contestants from all over the state participate in the Miss Rodeo Texas program competing for thousands of dollars in scholarship awards and other prizes among three age groups vying for their respective crowns. The Miss Rodeo Texas contest consists of pageant winners from 19 to 24 years old. The Miss Rodeo Texas Teen consists of winners from 14 to 18 year old. The Miss Rodeo Texas Princess competition consists of 9 to 13 year old contestants. The selection of each of the rodeo queens is based on horsemanship, appearance, and personality competitions with the crowning of the winners on coronation night in San Antonio, Texas. Please view the Miss Rodeo Texas website, www.missrodeotexas.com for more information. As the reigning Miss Rodeo Texas 2016, Lisa will be competing in the Miss Rodeo America pageant in Las Vegas, Nevada in conjunction with the Wrangler National Finals Rodeo.