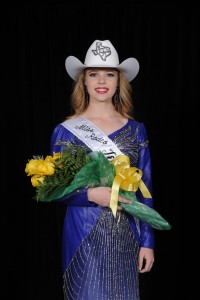 Miss Rodeo Texas Teen 2016
Aubrie Fields

In super-exciting pageant competition, Aubrie Fields, 15, of Sudan, TX was crowned the prestigious title of Miss Rodeo Texas Teen 2016. She was crowned June 23rd in San Antonio, Texas. Aubrie, a former Miss Rodeo Texas Princess 2014, entered the pageant as Miss Rodeo Tri-State High School. Aubrie said when she heard her name announced as the 2016 winner, she felt that incredible moment of "I just won!" Aubrie said, "I had set out a goal to win and I won, not just the title but I won almost all of the categories."
Aubrie is no stranger to competing in pageants. She had competed for the title of Miss Rodeo Texas Princess three times before she won in 2014. Aubrie knows what it takes to persevere and stay determined when the outcome is not what one hopes for. She went home, practiced, studied, and came back to the pageant for the win. She believes that "winning is not by chance, it comes with hard work and sacrifice." Her hard work and dedication definitely paid off, Aubrie won not only the title but the categories of Appearance, Personality, Horsemanship, Speech and Photogenic.
Miss Fields, attends Sudan High School. She is active in the Tri-State Rodeo Association, THSRA, FFA, Sudan Student Council, debate and Sudan 4-H. She enjoys tutoring students in math, exhibiting projects built in FFA and showing goats at livestock shows. Aubrie is the 2nd Vice President of THSRA Region 1 and competes in poles, breakaway roping, goat tying and team roping. An accomplished cowgirl, Aubrie is a 3-time state qualifier in the Texas Jr. High Finals Rodeo in multiple events.
When asked what she would want her legacy to be, Aubrie said she "wants to be like her mentor, Kara Brown Gillit." Gillit won Miss Rodeo Texas Teen in 1996, then went on to win Miss Rodeo Texas in 2001 and Miss Rodeo America in 2002. Aubrie would like to be like her mentor because, "Kara is a lady, a person of respect, kind and hardworking." Aubrie hopes that one day young people will look up to her and say the same about her. One of Aubrie's favorite quotes that she lives by is, "failure keeps you humble, success keeps you glowing, but only faith and determination keep you going."
As the 44rd Miss Rodeo Texas Teen, Miss Fields received a $7,000 scholarship, trophy saddle, trophy buckle, luggage, a ring and other valuable prizes as the new MRTT 2016. Aubrie Fields, will be representing Texas in numerous rodeos and community events throughout the great state of Texas and other states.
A Texas tradition for more than five decades since the first Miss Rodeo Texas in 1959, the Miss Rodeo Texas Pageant has produced seven Miss Rodeo Americas. Since the inception of the Miss Rodeo Texas Pageant, Miss Rodeo Texas and Miss Rodeo Texas Teen have served as vibrant, colorful goodwill ambassadors of rodeo, the official sport of Texas, working closely with professional rodeos, rodeo associations and community organizations to keep our western heritage and keep the western industry alive and flourishing in today's society. Contestants from all over the state participate in the Miss Rodeo Texas program competing for thousands of dollars in scholarship awards and other prizes among three age groups vying for their respective crowns. The Miss Rodeo Texas contest consists of pageant winners from 19 to 24 years old. The Miss Rodeo Texas Teen consists of winners from 14 to 18 year old. The Miss Rodeo Texas Princess competition consists of 9 to 13 year old contestants. The selection of each of the rodeo queens is based on horsemanship, appearance, and personality competitions with the crowning of the winners on coronation night in San Antonio, TX. Please view the Miss Rodeo Texas website,www.missrodeotexas.com for more information. Miss Rodeo Texas 2016, Lisa Lageschaar, will be competing in the Miss Rodeo America pageant in Las Vegas, Nevada in conjunction with the Wrangler National Finals Rodeo (PRCA).